NPTC Level 1 Award, Certificate & Diploma in Work based Horse Care.
Approved by City & Guilds to deliver this course
This course will be based at Hawthorn Farm, a working farm in Cannock Chase and is a fantastic opportunity for learners hoping to pursue a career with animals and horses.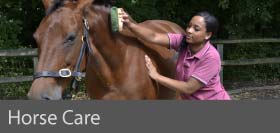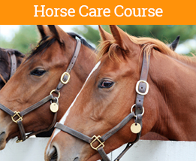 Focussing upon the principles and practices of horse care and management in a work-based setting, the learner will focus on areas of interest such as yard work, competition horses, riding, breeding or coaching.
Horse Care at Alpha Training benefits a wide range of learners, including those with behavioural challenges, mental health problems and learning difficulties. It helps to improve mental and physical wellbeing and social skills.
It is also beneficial for learners looking for a new way to improve confidence and self awareness, or for a relaxing break from routine.
At Alpha Training the focus is on building a trusting partnership between horse and human.
While scientific research on equine therapy is still ongoing, for centuries it has been known that interacting with animals promotes emotional and psychological well-being in people.

For instance, autistic children often have trouble with eye contact and bonding, but they seem to connect easily with horses, which can improve their communication and social skills.

Horses have an incredibly therapeutic effect and promote a great sense of Self Esteem within those who might be in need of some support. The Calming and Gentle nature of our four legged friends encourages a confidence and a sense of achievement.

Alpha Training has recognised the benefits that being around Horses can bring to those within the Autistic Spectrum and we have worked with learnersto help produce some very positive and satisfying outcomes.
For more information please call 01543 374320